Meet the babes behind
Beauty Bender
, Alexis Johnson
and
Kathryn
Romeyn
. Little girls playing with their
mothers' makeup became grown women thriving in the magazine industry. After
years working at various LA publications, Alexis and Kathryn started their own beauty trends blog. It's easy to be entranced on their site for hours
with insider tips from celebrities and industry professionals, edgy
photoshoots, and top-notch product recommendations.
Sorority formals are all over the social calendar this month! I knew Alexis and
Kathryn would be my go-to girls to create a guide for the hottest makeup, hair,
and nails for your next glam event.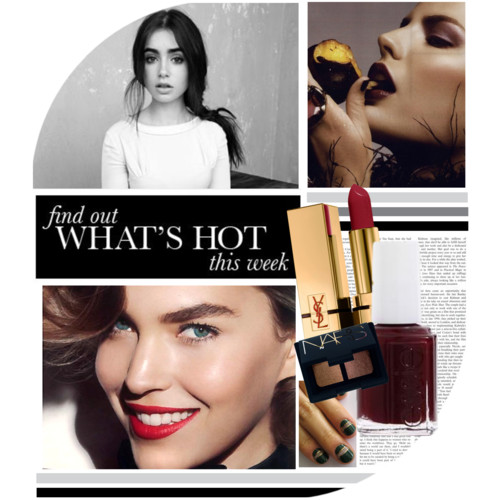 COLORS
Makeup this season has been all about
having a little fun, while still staying natural. We're loving all things
oxblood
—a great, deep burgundy color that's
perfect for nails (try
Essie's Wicked
) or a bold lip (here are some of our
hints on how to wear it best: http://www.beautybender.com/2012/10/bordeaux-beauty/),
but don't shy away from a
great red or fuchsia
, either. Statement-making lips are here to stay!
EYES
For
eyes
, we're championing
full, natural brows
a la Arizona Muse or Lily Collins. A full brow frames the face and
feels fun and fashion-forward, too. So eschew the usual smoky eye and go easy
on the shadow—instead try just a few coats of mascara or keep things simple
with a
neutral shadow
and a
slick cat eye
done precisely with liquid liner (
NYX's Curve
is truly game-changing
and perfect for any liquid-lining novice; more about it here: http://www.beautybender.com/2012/10/makeup-musts/).

HAIR
As for
hair
, waves are on hold for now, so aim for
smooth
luscious locks
. All the runways have been showing sleek,
straight locks worn either down with a center part or pulled back into a
chic ponytail
. What could be easier?
NAILS
And don't forget your
nails
! Nail art is a true passion for us and so
easy to do at home. It's fun (and cheap!) to experiment, and right now we're
into the
'negative space
manicure'
(see the easy-to-do tutorial here: http://www.beautybender.com/2012/11/positive-picture/)
as well as
the two-tone take
on the traditional French mani
. We suggest keeping things unexpected and
trying a base coat of red with a pink tip, or even a black base with a gold
accent. The sky's the limit here! You may even want to try to coordinating it
with your dress.
WORDS OF WISDOM
The main thing is that you feel confident,
so go with something that really makes your natural
beauty shine and is also low maintenance. Nothing is
worse that being tied down to the bathroom all night while you have to
constantly touch up your makeup.
Now that it's guaranteed your date will be blown away by your stunning
beauty, your party pre-prep is almost done! Next item on the agenda: find the perfect dress!