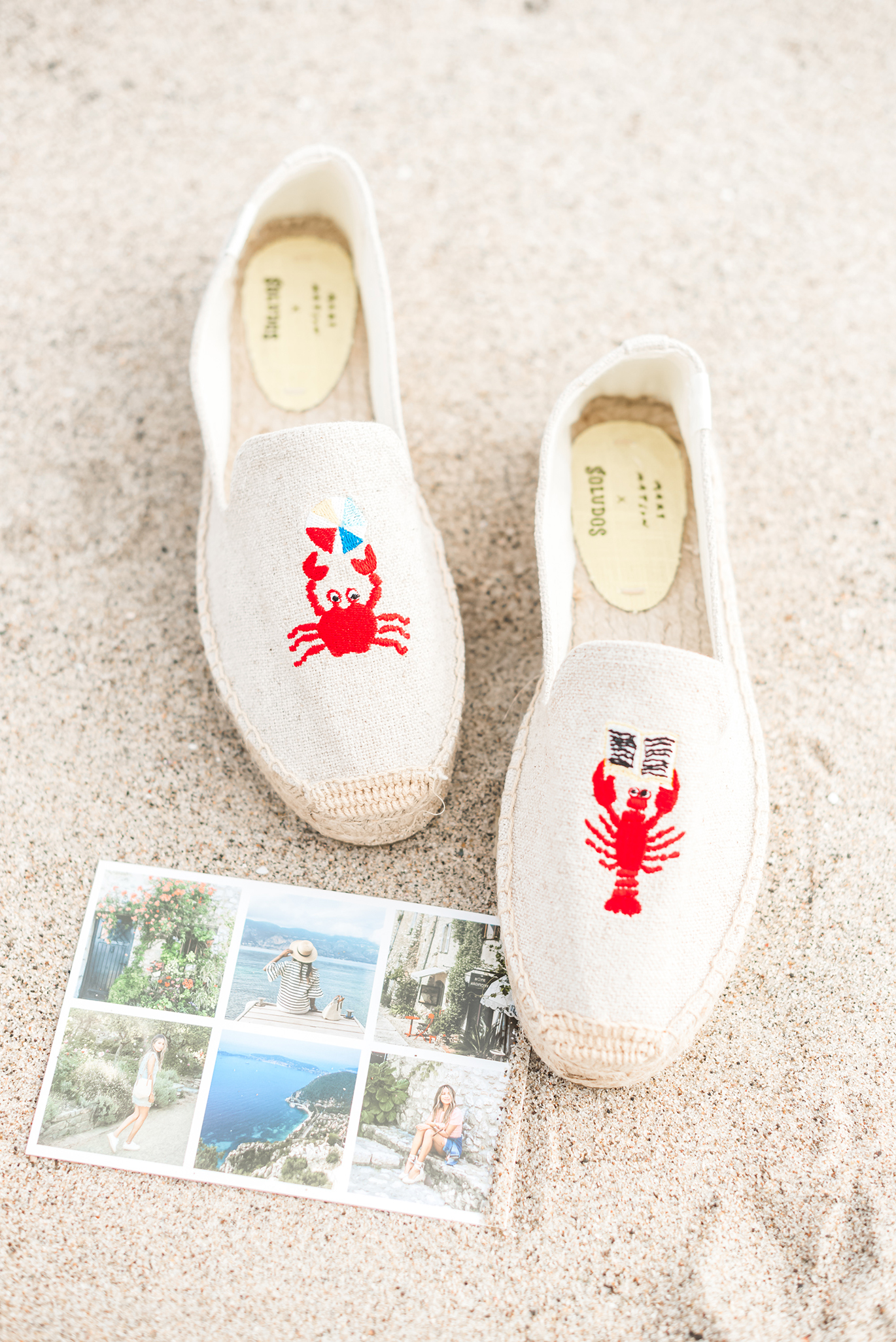 Who else has the post-holiday blues right now? I sure do, so I'm revisiting the long weekend in this post! I was in a surf and seafood mood for the 4th of July, so I invited my girlfriends Kaitlyn and Katherine to our beach club for a fun-filled clambake. Hello summer chic! We didn't all plan on wearing one-pieces, but clearly we were on the same page. A classic one-piece just screams summer to me.
I was feeling all the red, white and blue vibes, so deciding on an All-American color scheme was easy. I'm kind of obsessed with all of the décor, but I really went crazy over these lobster and crab napkins! Aren't they perfect? I'm also so happy I found these wine glasses. Normally I would never go for plastic wine glasses, but glass on the beach is a big no-no (especially if you're like me and used to tripping and breaking everything in your path). The seashell design is also a really fun touch. I love the flower arrangement too. FTD did such a beautiful job putting it together. They're my go-to when I don't have time to put the flowers together myself and want something really special! FTD is also great for "just because" blooms or "I screwed up and I'm sorry" blooms (cough cough to any gentlemen reading this!)
I ordered all the décor weeks in advance (most of it is from Pier 1– so cute!) and figured I would channel my inner Martha Stewart and make the seafood. Um flash forward to just a few days before the event and I'm Googling seafood boil recipes and kind of freaking out. I was too worried I would poison my friends with improperly prepared lobster, so I left it to the guys at Reel Inn in Malibu. The food was delicious! #GimmeAllTheButter We did a combination of lobster, clams, shrimp, corn on the cob, potatoes and veggie sides. I forgot mussels and sausage but include them in your own party! If you're more domestic than I am (good for you!), then you can follow this recipe to make the seafood boil yourself. As per usual, I went a little overboard with the rosé selection. Ladies need options, right?! I also bought California Dream beer not because I like beer but because the labels are cute, lol! For dessert, SusieCakes made the yummiest lobster-shaped cookies. We also had gooey s'mores right as the sun started going down, because I think they're required at any summer event! Treat yo'self, right?
We had so much fun with the Pacific Ocean as our backdrop! Would you throw your own clambake? Let me know in the comments! If you don't live by the beach, a clambake would taste just as good in your own backyard! x

Event design and styling
Brooke du jour Events
Décor
Williams Sonoma plates (similar)
Williams Sonoma platter (similar)
Lavender Blue tablecloth (similar)
Target checkered picnic blanket (similar)
Bourget Brothers wooden crates (used as table)
Crate and Barrel picnic basket (similar)
Sundry tote (the cutest beach bag ever!)

Flowers
Food and drinks
Reel Inn seafood boil
SusieCakes lobster cookies
El Terrano rosé
Saint-Roch rosé
Miraval rosé
California Dream beer
My outfit
Style Notch shorts c/o (similar)
BP hat (similar)

Kaitlyn's outfit
J.Crew linen button down (similar)
BP hat (similar)

Katherine's outfit
Tommy Hilfiger one piece (similar)