Drum roll please… The Nordstrom Anniversary Sale Early Access has arrived! It's one of the biggest sales of the year (hello Christmas in July!), because Nordstrom offers brand-new fall arrivals all at super discount prices. A girlfriend asked me if we were getting "drinks" or "dranks" this weekend and I was like, "DRANKS BECAUSE #NSALE!" Lol! Who is with me?!
If you're a Nordstrom cardholder then you can shop the Sale during the Early Access period. Early Access runs from July 13 – July 20. If you don't have a card, you can apply here. The Sale opens to the public from July 21 – August 6.
I'm sharing my favorites from the Sale below. I always use the Sale as an excuse to get a new pair of riding boots, so these Tory Burch babies are coming home with mama. I also think I have to get this Skinny Dip brush set mainly because it's pink and marble and pretty, but also because I need new brushes! #WinWin I wear these leggings CONSTANTLY. I own at least 3-4 pairs and at $12, I have to get at least one more, don't you think? This pretty pink coat will be perfect for New York in the fall. This nude bra is the perfect everyday T-shirt bra, and I'm also getting this lacey pink bralette because well YA KNOW. This green top screams fall to me- Can't wait to wear it. I know I'm getting at least one pair of jeans but my heart can't decide between these AG ones I've been lusting after forever and these Rag & Bone jeans that just caught my eye. I hated myself for not getting a brown leather jacket during the Sale last year, so I'm getting this gorgeous beauty this year. I wear my black leather jacket to death in the colder months, so I know I'll get a ton of use out of a brown one as well. This tote reminds me of the BP tote I've worn into the ground—It's such a great everyday carry all. Perfect for all my fellow Mary Poppins out there. I love this pretty white lace top for date night. Is anyone else like me and cold literally all the time? This cozy cardigan is the answer to my dreams in every movie theater, plane ride, etc. I could go on and on, but I think that's enough for today! Shop more below.
What's in your shopping cart??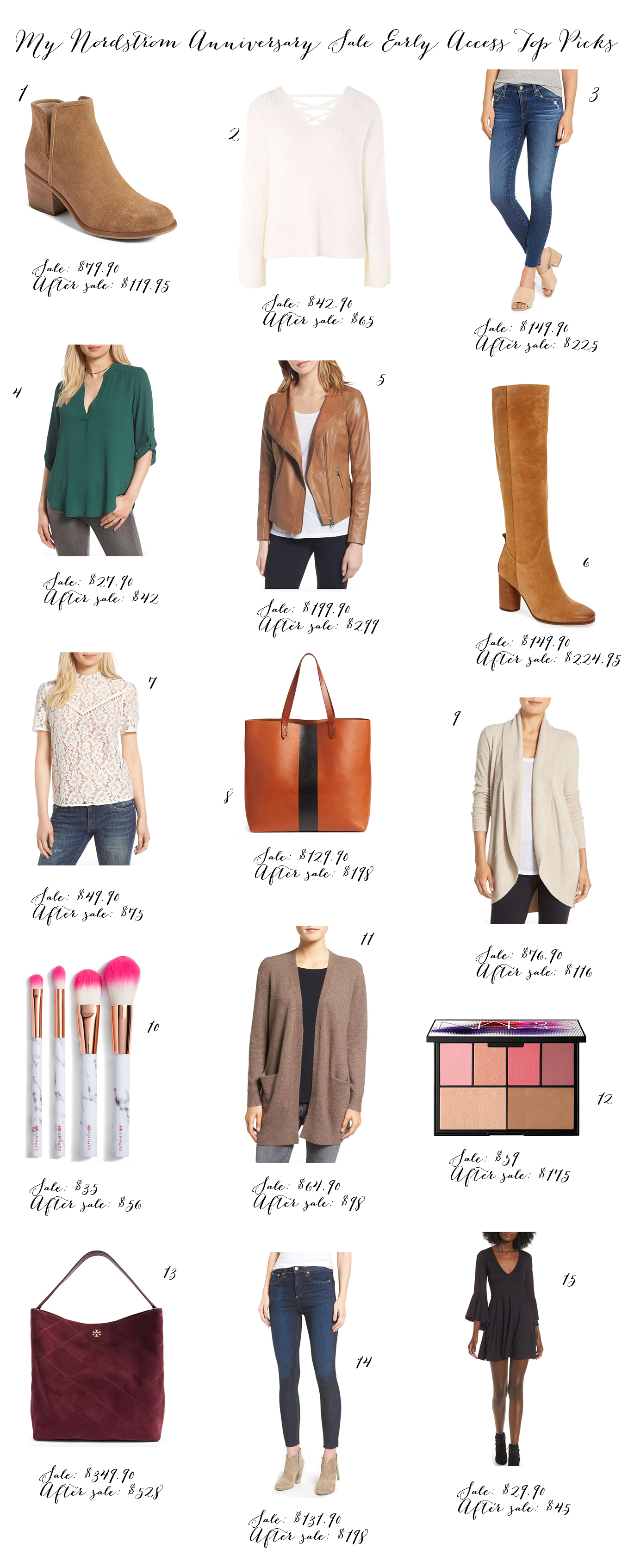 Hinge ankle booties | 2. Topshop sweater | 3. AG jeans | 4. Lush top | 5. Trouve leather jacket | 6. Sam Edelman boots | 7. Wayf top | 8. Madwell tote | 9. Barefoot Dreams cardigan | 10. Skinny Dip brush set | 11. Madewell cardigan | 12. NARS cheek palette | 13. Tory Burch purse | 14. Rag & Bone jeans | 15. Socialite dress