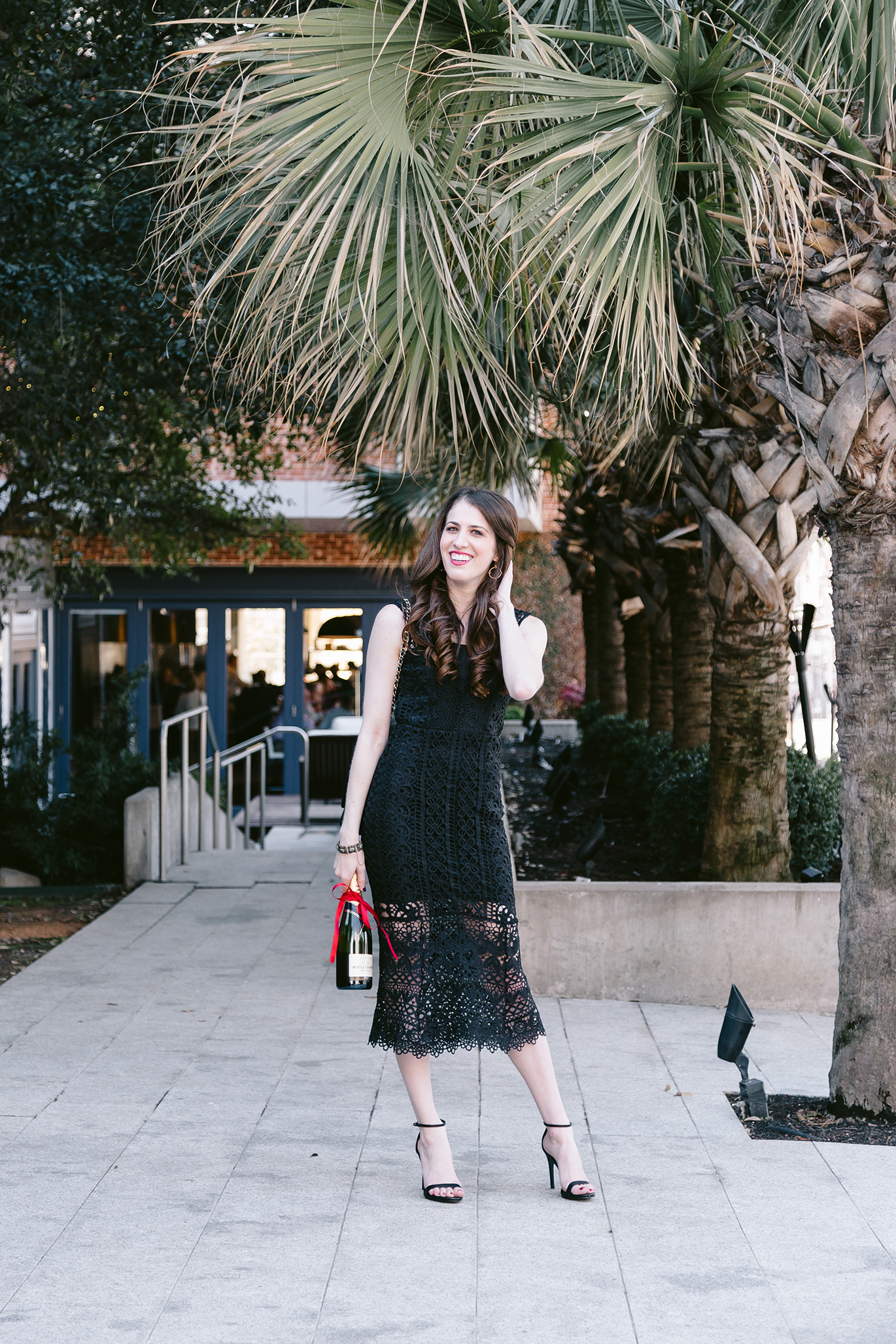 Hi everyone! Long time no see! What are y'all up to this weekend? I just polished off a bag of jellybeans (I favor the pink ones obviously) and I'm ready to dive into a weekend binge of Mistresses on Hulu as soon as I finish this blog post.
I'm not really a little black dress kind of girl. I tend to spend my time in the pink and sparkly section of the store and neglect the practical pieces. But I spotted this number and knew there was something about it that I had to have. The interesting hemline, lace overlay and back zipper all said, "Hey! Look at me!" I tried it on and the rest was history. I know I'll be happy I have this dress in my closet when a fancy wedding, dinner party, etc. pops up on my calendar.
Before we leave each other and I begin my Hulu-weekend trance, I also wanted to share some fun finds from around the web with y'all! I spend an embarrassing amount of time on the computer. I'm sure my eyeballs are probably about to fall out of my head (scientific right?) but at least someone should benefit, lol!
1) I need the Cult Gaia bag, right?! It has basically taken up a permanent residence in my Instagram feed, and I am jealousssss.
2) Loved this goodbye from Richard Branson. I also recently bought his book, "Losing My Virginity: How I Survived, Had Fun and Made a Fortune Doing Business My Way," and I'm excited to read it! I'm trying to put down my phone and read for an hour every night before bed. Flamin' Hot Cheetos are obviously included. Those little suckers are so good ugh.
3) I'm going bananas over J.Crew's new swimwear. Be still my heart. I just ordered this cheeky Friday suit, and I'm ready to hit the beach in it.
4) I have always loved Lauryn from The Skinny Confidential. She's hilarious and *almost* makes me want to drink a green smoothie. I regularly stalk her blog because she keeps it so real and I completely respect that. Have you read Part III of her wedding yet? TDF.
5) I've been wearing this off the shoulder gingham cutie all over town lately. Summer called and said you need it.
6) Should I cut out dairy to avoid icky bloating? Or is that not the kind of life I want to live? Corinne would certainly not approve!
7) I'm hosting a Cinco de Mayo pool party (Olé!), and I'm wondering if this is the dress I should wear? Or should I go casual and wear a more traditional blouse like this? Decisions, decisions!
8) I just tried YogaHop on Montana after reading about it in Lauren Conrad's Santa Monica city guide, and I LOVED IT! It is hard to get this girl to a workout class, so trust me when I tell you how much fun it is. I like to smile when I'm having my ass kicked—not like my experience at Pure Barre where the whole class (myself included) just looked miserable. I did YogaHop Candlelight, so the room is pretty dark except for the candles around the room- so beautiful and calming and exactly what I want after a hectic day. The first 40ish minutes are intense—you're doing fast, athletic yoga and sweating your balls off. Seriously, bring a towel. The music is crazy loud and fun. Then for the last 20ish minutes, the pace really slows down and you switch gears into very relaxing yoga poses and the music gets nice and slow too. Highly recommend the teacher, Matthew. It's also only $45 for 10 classes as a new client and that's just an INSANE deal.
9) This pink letter board is basically everything I have ever wanted. My BFF Stephanie gave it to me for my birthday and it sits proudly on my desk. Mine currently says, "It's ON. Time to make the magic happen," which is a nice, sassy reminder for when I'm feeling lazy.
10) This post is for anyone who appreciates a lavish picnic spread. Fancy shmancy rosé is a must.
Alrighty! That's it for now. Bye girls! (I was about to say "bye guys" but then realized my boyfriend and brother are the only guys who actually read my blog, lol)

Outfit: Aqua dress
Accessories: Chanel purse, Steve Madden heels
Jewelry: Broken English hoops, Vintage bracelet, Anne Sisteron love ring