Prada Marfa painting by Lauren Murphy (similar options here) | Z Gallerie bar cart and accessories | Z Gallerie floor lamp | Macy's couch | Etsy pillow | Z Gallerie accent table | Z Gallerie coffee table
Pottery Barn Baby curtains (similar) | Joss & Main mirror | Etsy "Sweet Dreams" garland | Target headboard | Bed, Bath & Beyond bedding | Z Gallerie lamps | Lamps Plus nightstands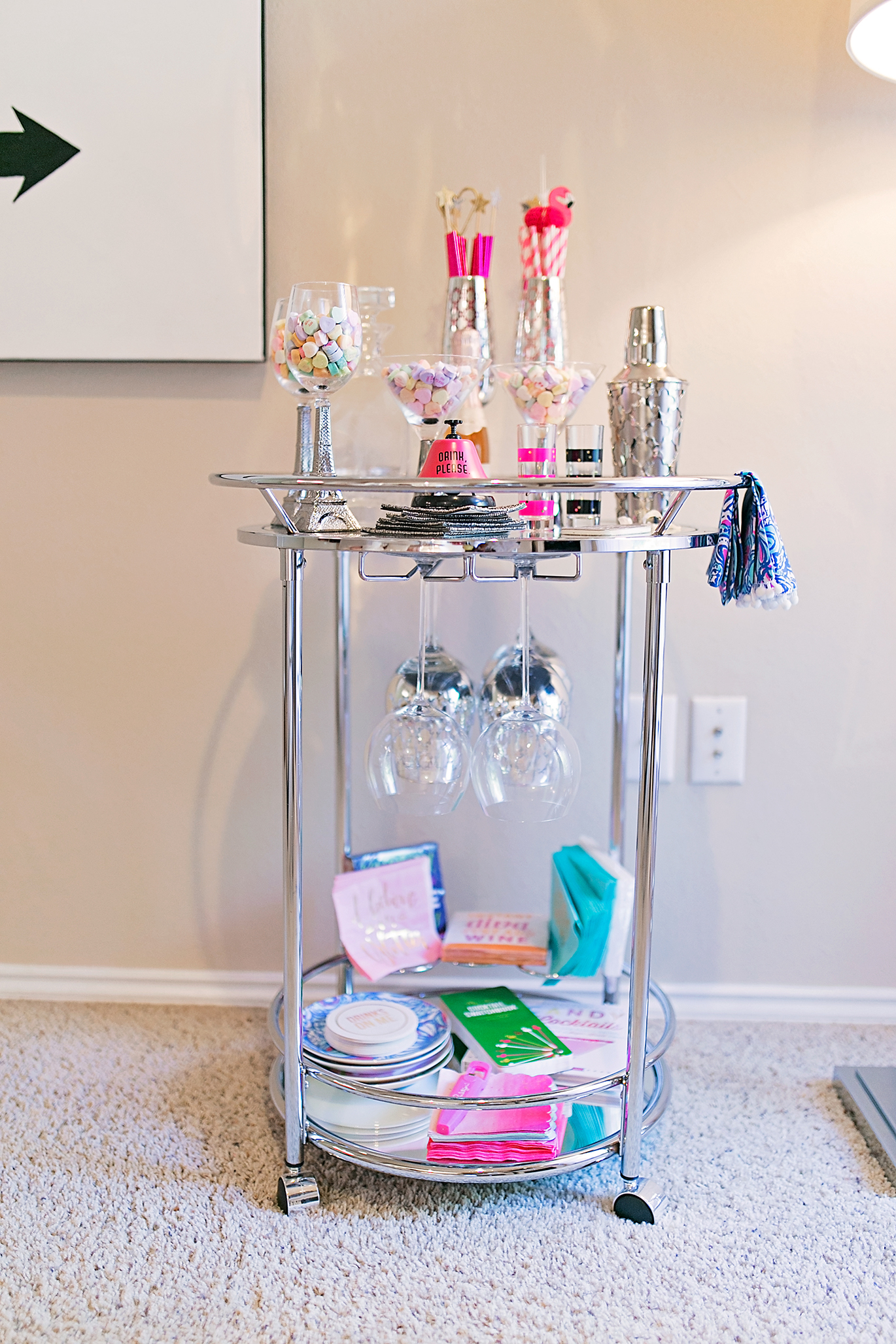 Paper Source flamingo straws (similar) | Z Gallerie Eiffel Tower wine glasses (similar) | Swoozie's "Drink, Please!" bell | Swoozie's polkadot shot glasses (similar) | Z Gallerie cocktail shaker | Lilly Pulitzer for Target hand towel | Z Gallerie bar cart | Crate and Barrel "Olivia Pope" wine glasses | Swoozie's cocktail napkins
Z Gallerie Eiffel Tower glasses (similar) | Anthropologie decanter (similar) | Z Gallerie martini glasses | Z Gallerie champagne flutes | Z Gallerie cocktail shaker | Swoozie's polkadot shot glasses (similar) | Swoozie's "Drink, Please!" bell | Z Gallerie coasters | Swoozie's "Fancy A Glass" sign | Lilly Pulitzer for Target hand towel | Z Gallerie bar cart
Ankit "Be Happy, Be Bright, Be You" sign | Anthropologie matches | Target picture frame | Laduree Macarons by Vincent Lemains
Z Gallerie picture frames | The Little Dictionary of Fashion by Christian Dior | Cupcakes and Cashmere by Emily Schuman | #GIRLBOSS by Sophia Amoruso | The Skinny Confidential by Lauryn Evarts | Anthropologie Eiffel Tower ring holder | Love by B.C. Aronson | Not That Kind of Girl by Lena Dunham | The Glitter Plan by Pamela Skaist-Levy and Gela Nash-Taylor | The Woman I Wanted To Be by DVF | Grace by Grace Coddington | Z Gallerie orange candle | Voluspa red candle | #FrontRoe by Louise Roe | Paris by Janelle McCulloch | Chanel by Danielle Bott
Blue Eye Brown Eye calligraphy | Lollia candle
You Are A Badass (best book ever!) by Jen Sincero | Me Before You by Jojo Moves | After You by Jojo Moves | First Comes Love by Emily Giffin
I need to confess something first—I've only been working from home for a short time and the first month was kind of a disaster. I have always craved a strict schedule. I thrive on structure, so I did well in environments like college and the corporate workplace. Then I started working for myself all by myself all day long and things got weird. Every single minute of my day used to be properly scheduled and now I COULD DO WHATEVER I WANTED ALL DAY! OMG THE FREEDOM! Well that endless freedom + frequent travels + moving halfway across the country + a buttload of other excuses = I wasn't doing my best to ignite the dream I had worked so hard for.
Gulp.
I clearly knew it was time to kick my ass into gear. I started Googling, reading books and asking smart entrepreneurs around me and found so many great tips that helped me with this new chapter of my life. Here's what I learned and put into practice:
NEEEEEVER work from the comfort of your bed. DON'T DO IT. I MEAN IT. All this leads to is napping and Netflix binging. Sit at a proper desk. Or get out of your apartment and make a quiet coffee shop your office. The quirky barista is your new co-worker. Go with it.
Make a schedule and stick with it. Every Sunday night, I divide up my week and decide exactly what I'm doing and when. Obviously, I pivot throughout the week when things come up but I wake up every morning and generally know what the day ahead of me is going to look like. Make Google Calendar your BFF.
Turn off your phone. AH this one is verrrrrry hard for me. I mean what if during the one hour period that my phone is off so I can bang out a blog post, someone dies or I miss a really cute Instagram with donuts and disco balls? Brooke, turn the damn thing off and get your shit done.
Get out of your jammies first thing in the morning and put on some real clothes. "Working" in the same clothes you slept in isn't going to fly. No one ever conquered the world in cutesy unicorn pajamas from Forever21. Remember that.
Never leave to tomorrow what you can do today. A few months ago, I was shooting for the blog (it probably involved a picnic because I freaken love doing picnics on Brooke du jour). Anyways the champagne spilled in my car on the way home. I should have hightailed it to the carwash but I was going out of town the next day and decided to just drive home and pack instead. I mean, there are worse smells than champagne right? WRONG. I came back a week later to a car that smelled like moldy champagne and an extra expensive carwash bill shortly followed. Yay my life. Lesson learned- don't put stuff off today or it will bite you in the butt tomorrow.
Try to limit your work hours to 9 am to 6 pm. Okay this is admittedly the one tip I struggle with the most. As young entrepreneurs desperate to thrive in our businesses, it's so tempting to want to work at all hours of the day. I think there are definitely days that call for that but overall for me, I know I'm not doing my best work if I'm writing a blog post at 11 pm. I'm basically catatonic after 8 pm- it's ridiculous. I try to solely focus on my work from 9 am to 6 pm and schedule fun stuff outside those hours. I've found I'm more productive during the day if I know I get to treat myself to a manicure with a friend once I've clocked out for the day. This is your business- treat it like one.
Dance it the F out. When I'm stuck on an idea and have no clue what to write about for my next blog post or I'm simply going nuts in my teeny workspace, I dance it out in my underwear (no shirt and shoes allowed for real). Preferably to something amazing like, "Ain't No Mountain High Enough," "I Wanna Dance with Somebody," or "Hips Don't Lie." It helps me get my groove back—see what I did there? Rock. It. Out.
Develop habits that get you into a working mindset- fast. When I put on my pink slippers (this is an addendum to the earlier rule—it's okay to wear slippers if the rest of you is dressed), light a Candlefish candle and put on my favorite Spotify playlist, my body knows it's time to get work done. You gotta set the mood, you know?
Write everything down. This tip applies to all creative entrepreneurs in my opinion. At my old age of 25, I forget EVERYTHING if it isn't written in my planner or on my hand. It's blasphemy. Just the other day, I was driving home and the best idea for a blog post just came to me. I was so pumped about it and I felt like y'all would really love it. What I should have done is pull over and jot a few notes into my phone. Instead I had my own karaoke session to John Legend on KIIS-FM. Of course as soon as I pulled into my driveway, the idea was gone. POOF. VANISHED. Ugh that could have been the best blog post I ever wrote but nope I didn't write it down.
Set concrete goals, keep track of those milestones and celebrate with your support team! Pop that bubbly- you earned it.
Like I said in the beginning of this post, I haven't been working from home for very long and I'm learning as I go. Do you have any tips? Leave 'em in the comments!
PS- These were the last photos ever taken at my Dallas apartment! I'm so sad because I really loved this apartment. It was a shithole but it was my shithole, you know? I was so proud of myself for living on my own for the first time and creating a happy place I loved coming home to after work. I have been decorating my place in LA and it has been a processsssssss. I thought I wanted all-white everything but when I was almost done, I realized I hated it. It reminded me of a cold mental institution, which is obviously not the vibe I was going for. I decided to go back to my roots and just cover the whole thing in pink like my heart truly desired. I can't wait to share in a blog post soon! <3