Hi there! Did you have a fun NYE? I rang in 2018 with my best friend from high school—We wore pajamas, ordered takeout and watched our favorite Reese Witherspoon movies. We were both fast asleep by 10:30 pm LOL! If we had actually left the couch and gone out, I would have used my new addicting makeup products that give me a fun winter glow! I'm sharing all of the beauty details below that saved my blah winter skin. Read on so your 2018 will include all the shining moments you deserve.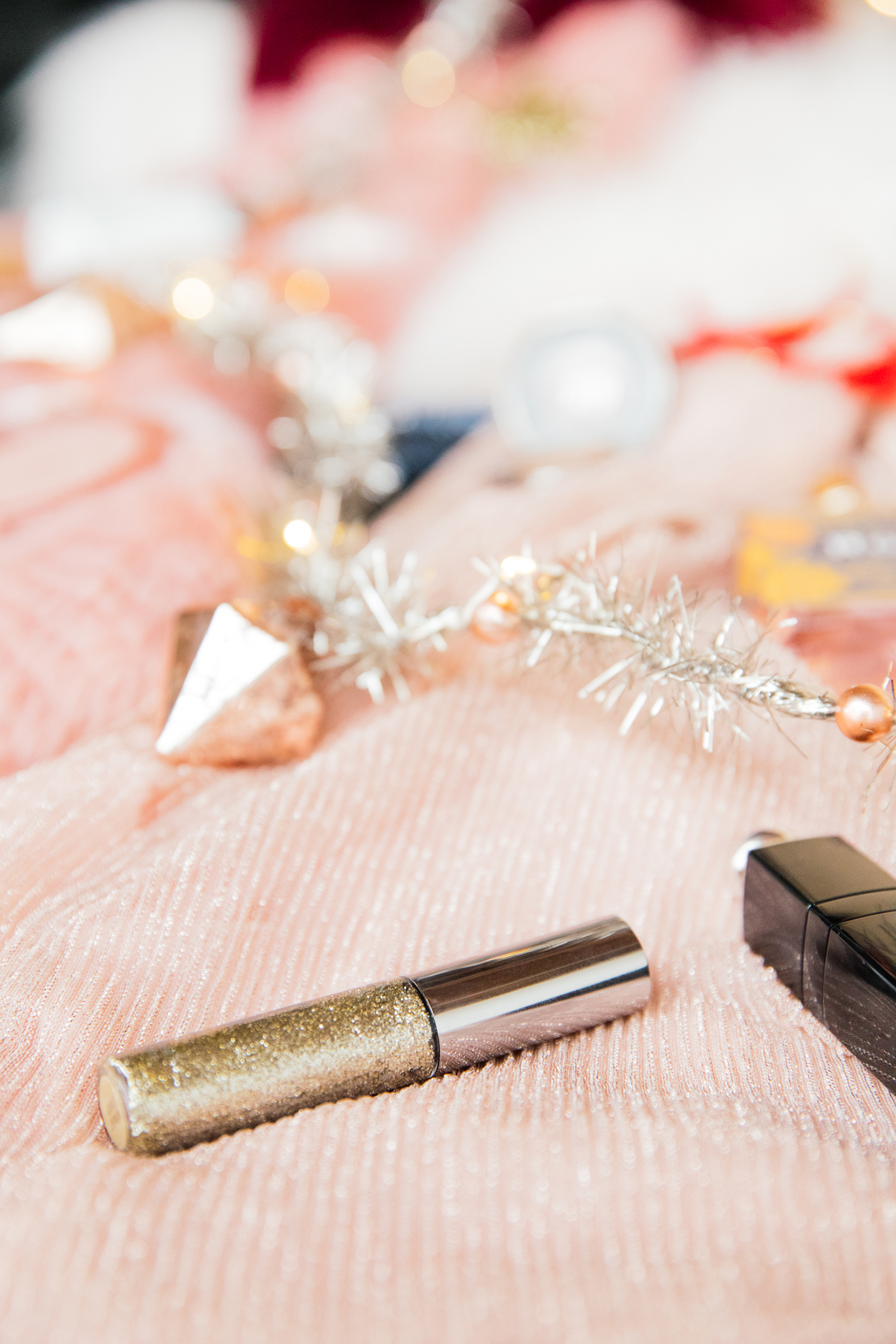 Cover FX Illuminating Primer, Cover FX Custom Enhancer Drops in Moonlight and Cover FX Illuminating Setting Spray
This Cover FX set is the ultimate winter glow product. It got me through so many holiday parties this season, and I know I'll be keeping it in my makeup bag for months to come! I apply Cover FX Illuminating Primer after my serum and moisturizer to give my skin a bright, radiant glow. I use teeny drops of Cover FX Custom Enhancer Drops in Moonlight as a highlighter on my cheeks, the bridge of my nose and as an additional eyeshadow—subtle yet gorgeous and dewy, I promise! I use Urban Decay Eyeshadow in Beware under the Enhancer Drops– It's a warm medium brown matte with a matte finish and blends so well with the drops. When I'm done with all my makeup, I set my face with Cover FX Illuminating Setting Spray to insure my radiant skin shines all night long. I bought the products as a set in store at Sephora, but it looks like they're available individually online at Sephora and as a set at Cover FX.
Urban Decay Heavy Metal Glitter Liner in Midnight Cowboy
This Urban Decay sparkle eyeliner looks SO great on top of a classic black liner. I'll either create a fine glitter line or I'll brush the sparkle all over my lids. Just make sure to keep your eyes closed for a couple of seconds so you don't transfer the glitter. I have the Midnight Cowboy shade which is a gold/beige-y glitter. I definitely need the pink option too, right?! Urban Decay, please make a rose gold option as well!
Dior Addict It Lash Mascara
I'm obsessed with long lashes and am always trying new lengthening mascaras. This Dior mascara is my favorite of 2017. It doesn't clump or smudge at all! I tragically lost my first tube and had to buy another one—it's that amaze! Worth the splurge.
Pat McGrath Labs Lipstick in 419 Major Red (LuxeTrance)
I'm into a good red lip year round. Pat McGrath Labs Lipstick in Major Red is the BEST red hands down. Your lips will love the satin finish at first swipe. Bonus points for such a glam tube too!
TARTE Amazonian Clay 12-Hour Blush in Exposed
TARTE gives my cheeks a pretty flush with serious lasting power. I'm so pale so it can be a little tricky for me to find a blush that isn't too colorful on me—Exposed is the perfect shade for my skin. I would describe it as a rosy, everyday nude.
Deborah Lippmann Lady in Red Nail Color Collection
I like my nails just like my lips- RED. This cute set from Deborah Lippman gives you six different shades to play with. You'll be covered from a classic bright red to a dark vampy glittery red. My favorite these days is Red Red Wine—no surprise there, right? Such a good gift for a friend! This fun neutral set is next on my list too.
Are there any makeup products you love that I have to try?!
See you back soon on the blog with a recap of 2017 and my intentions for 2018 : )
Beauty products: Cover FX Illuminating Primer, Cover FX Custom Enhancer Drops in Moonlight, Cover FX Illuminating Setting Spray, Urban Decay Eyeshadow in Beware, Urban Decay Heavy Metal Glitter Liner in Midnight Cowboy, Dior Addict It Lash Mascara, Pat McGrath Laps Lipstick in 419 Major Red (LuxeTrance), TARTE Amazonian Clay 12-Hour Blush in Exposed, Deborah Lippmann Lady in Red Nail Color Collection, Outremer Eau De Toilette in Rose, Sephora Collection Small Blush and Contour Brush #74

My outfit: J.Crew dress (available in more sizes in navy blue!), Gorjana earrings, Gorjana rings here here and here, Gorjana bracelets here here and here, J.Crew clutch, Steve Madden heels

Other items featured: Anthropologie champagne flute, Anthropologie stocking, Club Monaco fur vest, Revolve jumpsuit, Anthropologie sequin dress, J.Crew sequin top, Anthropologie champagne ornament, Anthropologie candle, Anthropologie tinsel lights, Anthropologie gift tag set, J.Crew bow earrings