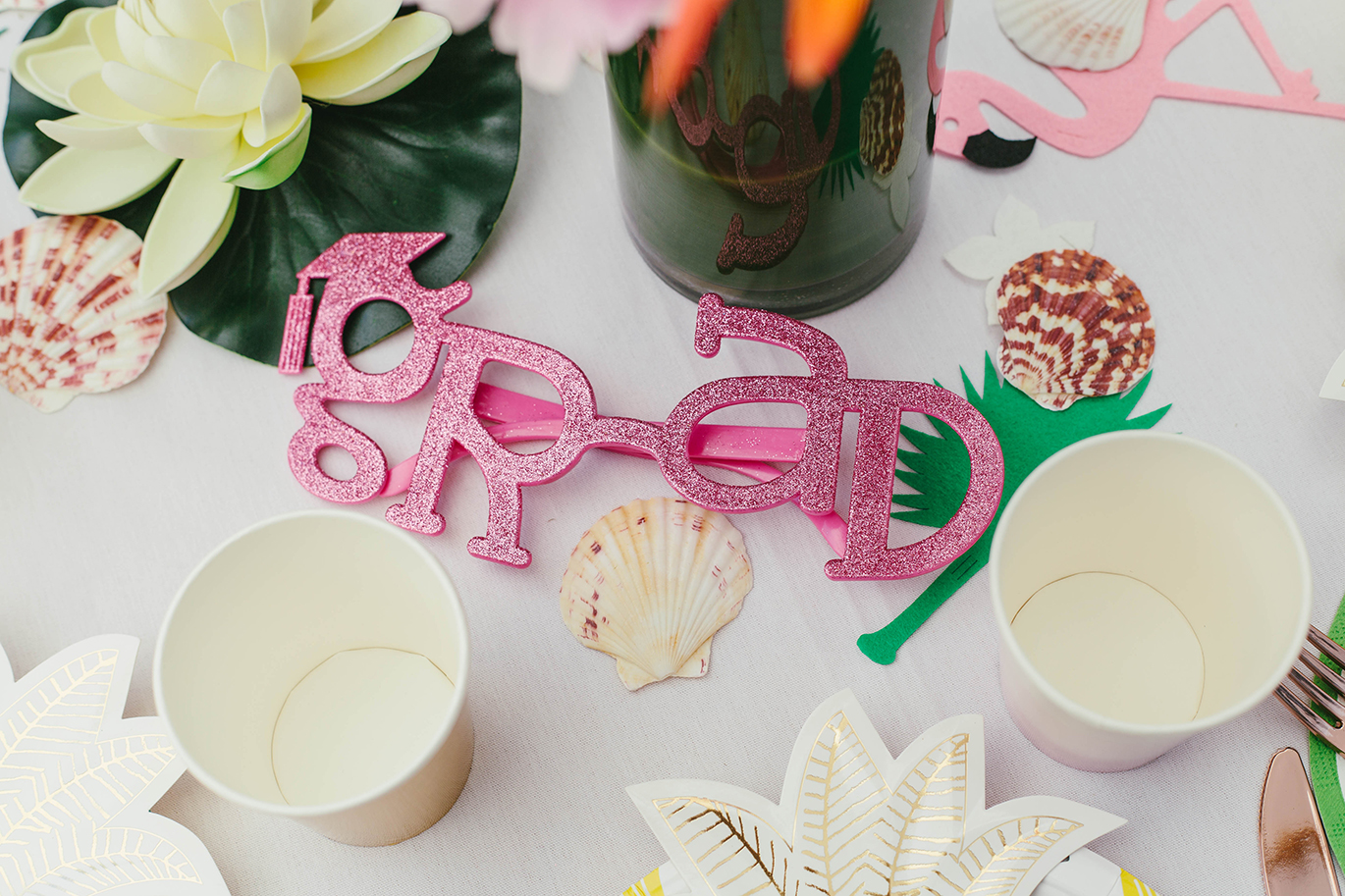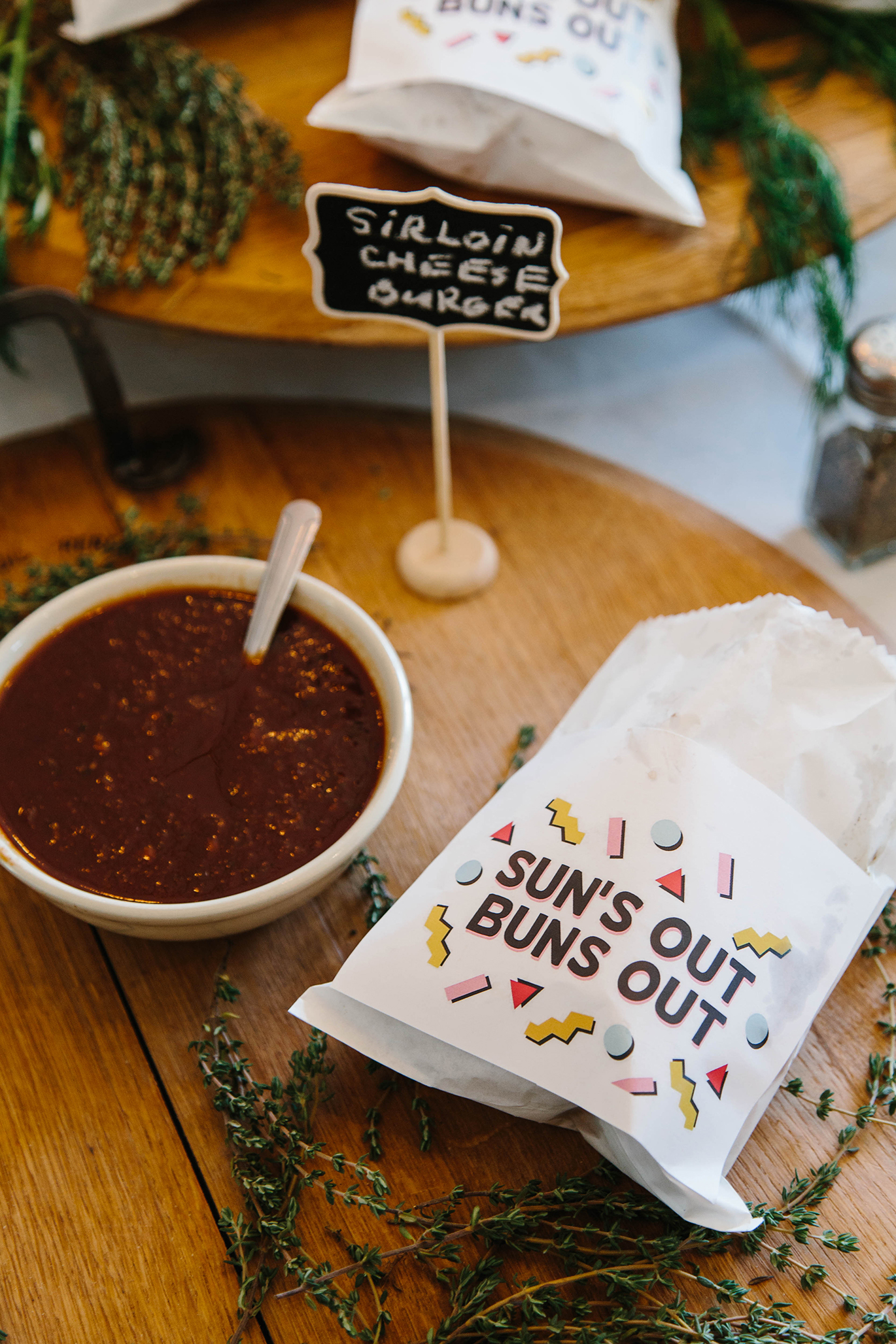 I've become more and more interested in event planning and recently planned a graduation party for a family friend with 100 guests! We wanted a tropical atmosphere that was fun for the grads and also felt elevated for the adults. Décor is my jam and my absolute favorite part of planning parties. I really went to town on Etsy. When we were about a week away from the party and the RSVPs kept coming, I hightailed it to Bonjour Fete in Studio City. Highly recommend if you live in the area. It's the cutest party store ever! I like that we did paper plates and goods because the party was casual and during the day but obviously I wouldn't recommend them for a more formal affair. I think whenever you can get away with using adorable fruit paper plates, you most definitely should!
We got the rentals (linens, tables, umbrellas, chairs and bar) through Town & Country. I think the rentals looked AMAZING and really elevated the space. Be prepared to spend a pretty penny on rentals though. I was surprised by what a large chunk rentals took out of our budget! We initially wanted to rent an actual tiki bar through Town & Country (so fab right?) but when we found out it was unavailable, we went with a vineyard style white washed bar. We covered it in tiki decorations and I think it did the trick. I wish we had gotten more pictures of the bar because it was my favorite part of the event! I mean, do you see the hula skirts on the wine bottles?! OBSESSED. And what is a summer cocktail without a flamingo straw? Nothing, I tell you- nothing. Also my mother drank rosé out of a gold disco ball and it was easily the highlight of my entire life. Lol #diva!
Marmalade Catering did all the food, which was so so great. Their staff was so helpful and the food was delicious. I had them put the burgers into these Sun's Out, Buns out bags I found on Studio DIY. Hilarious right? These bags were basically the foundation of the party actually! I saw them on Studio DIY and instantly knew we needed to do a party outside with a summer feel. SusieCakes made all of the desserts. How cute are the tropical cookies and piña colada cupcakes?! Let me tell you- the desserts were POPULAR! You know those parties where you spend a ton of money on food and no one eats? That was not this party. There was like one cupcake left at the end, lol!
For entertainment, we brought in Serve The Goddess to do manicures with tropical nail art. It was such a fun part of the event! The girls went crazy over pineapple, watermelon and palm tree manicures. It was really cute. Next time, I'd love to bring in a tailor to embroider custom phrases on denim jackets!
I tried to list all the details below so you can recreate your own party! Please let me know if you have any questions. I'm happy to answer in the comments or shoot me an email at brookedujour@gmail.com. And of course let me know if you're planning an LA-based event this summer or fall and want my help!! Let's create some magic together!!!

Event design and styling
Invitations
Caps Ahoy by Rifle Paper Co. on Paperless Post
Food and drinks
Marmalade Catering in Santa Monica
Décor
Town & Country rentals (linens, tables, umbrellas, chairs and bar)
Meri Meri pineapple paper plates
Target rose gold plastic silverware
Meri Meri pink and gold paper cups
Meri Meri Party Time fruit banner
Packed Party gold disco ball drink
Urban Outfitters shell and pineapple drink cups
Oriental Trading tiki bar sign
Oriental Trading tiki bar glasses
Paper Source hula skirts for wine bottles
Studio DIY Suns Out, Buns out burger bags
Sunnylife fruit marquee lights
Urban Outfitters pool floaties + air pump
Paper Source pineapple sunglasses
Balloons from Balloon Celebrations in Santa Monica

Flowers
Outside flowers arranged and assembled by Brooke du jour Events
Inside flowers from the florist at The Peninsula Beverly Hills
Entertainment
Manicures by Serve The Goddess
Party favors

My outfit

Tori Aston Photography