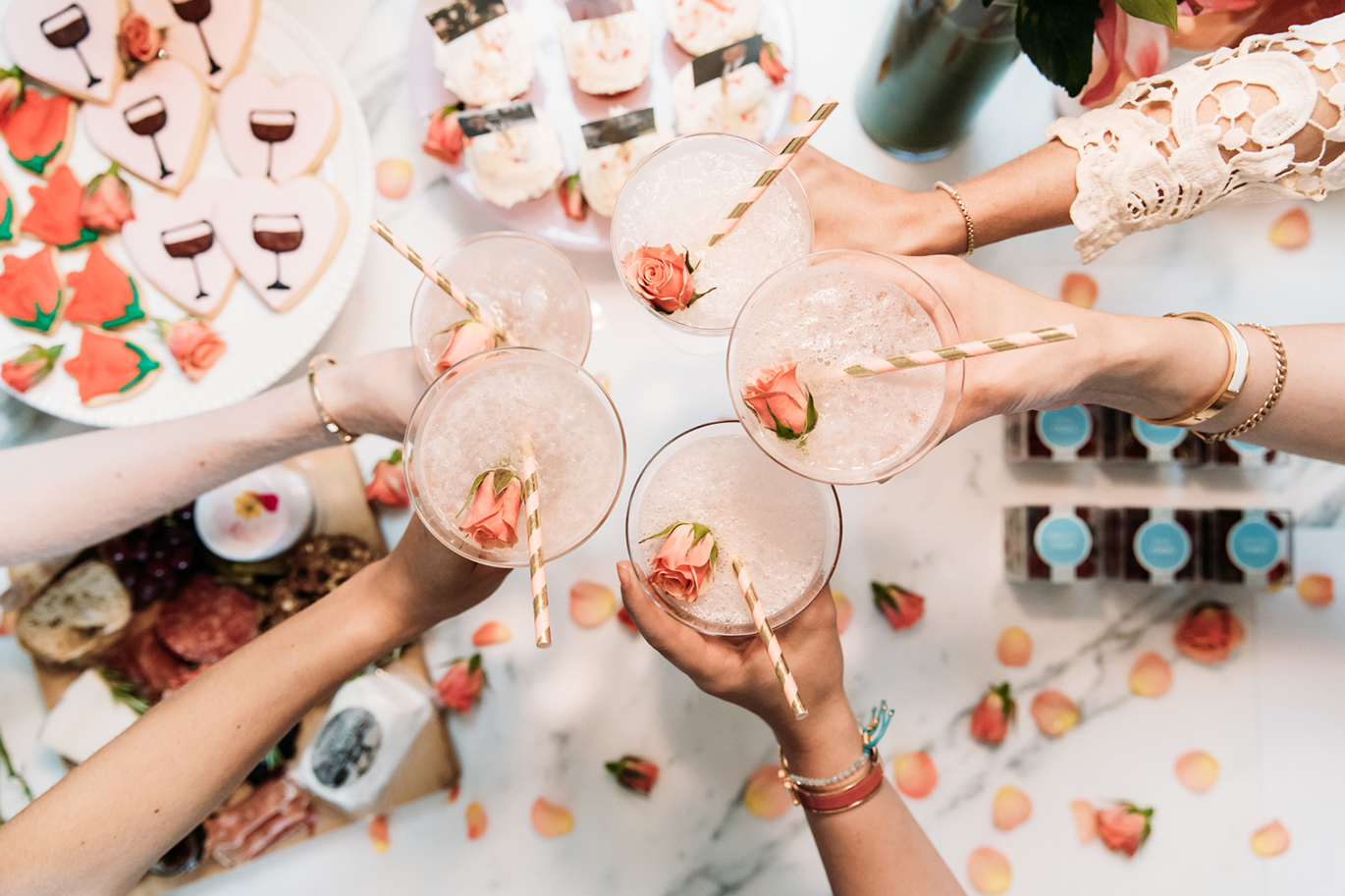 Who here is obsessed with Bachelor Mondays? I am a die-hard Bachelor fan. I have been addicted since the good ol' days with Trista and Ryan! My favorite day of the week during Bach season is Monday because hello new episodes and then my second favorite day is Wednesday, because Sheaffer posts her recaps. They are HILARIOUS. If you haven't read them yet, you are going to LOVE 'em.
I always watch the show with the essentials- wine, popcorn, friends and TiVo. However, a few Mondays ago I decided to go a little over the top (what else is new?) and invite my girlfriends over for an epic watch party. It was promised to be "the most dramatic episode ever," so we knew we had to go all out!
When the girls first entered "the fantasy suite" (aka my house lol!), they nibbled on a fab cheese plate. I always have a cheese plate when I entertain. I don't mess around when it comes to charcuterie, so it is always a hit!
Monica made frosé, which was awesome. You can learn how she made it in this post on her cute blog. Frosé was all the rage in Dallas last summer, and it seems like it's all over LA now. If you haven't had frosé yet, you need to add it to your summer to-do list for sure. I also think these wine labels are hysterical and will definitely be ordering them for our next watch party. How great is this one—"I'm on that glass of wine where the guy making out with twenty women on The Bachelor seems like he'd make a good husband" LOL right?! Also, typically I don't believe in serving non-alcoholic beverages at Bachelor watch parties. However, I will make an exception next time with a Sean Lowe six-pack of water!!! Shout out to Shawna for the AMAZING idea.
We made personal pizzas for din din. Full disclosure: I bought pre-made frozen pizzas just in case, but thankfully we didn't need them! It was so fun and easy for each girl to make her own pizza and customize it with whatever toppings she wanted. No mushrooms for me please! Highly recommend if you're planning a girls' night.
Dessert was by far my favorite part of the night, because WE HAD CHRIS HARRISON CUPCAKES! I have the most outrageous crush on Chris Harrison, so I knew we had to incorporate his beautiful face into the celebration somehow. I'm pretty sure the lady at Staples thought I was insane when I asked her to print a dozen Chris Harrison pictures but hey they turned out adorably, lol! The cupcakes and the cookies were both from SusieCakes. I always use SusieCakes for desserts at my parties, because they're just the best. How cute are the rose and wine/heart-shaped cookies?
I'm all about a good party favor, so the girls left with yummy Sugarfina candies. Next time, I'm going to put the party favors in little favor bags that will say, "Take a moment and say your goodbyes." Haha I can't resist a good Bachelor pun! I saw this idea on Mindy Weiss' blog : )
What do y'all think of Rachel's season so far? My picks for the final four are Bryan, Dean, Peter (SWOON!) and Anthony. I NEVER look at spoilers so don't tell me if you know!!! During the first episode of JoJo's season last year, every girl brought a bottle of wine to our watch party. We all made predictions of which guys we thought were going to be in the final four and then when Hometowns actually aired, the girl who had guessed the most contestants correctly got to keep ALL the wine. Lucky lady, right? Definitely a cute idea if you plan on hosting watch parties next season! x

Event design and styling
Food and drinks
Williams Sonoma cheese board (Apps from Bristol Farms)
SusieCakes cookies and cupcakes (I had the Chris Harrison signs printed at Staples!)
Home Goods white cake platter (similar)
Vintage pink cake platter (similar here and here)
Tiffany & Co. champagne coupes (similar, frosé made by Monica!)
Ralph's pizza dough and toppings

Flowers
Arranged by Brooke du jour Events with flowers from Bristol Farms
Party favors

My outfit
Siam Hill Tribes earrings (only $10!)

Katherine's outfit

Erica's outfit

Monica's outfit
Forever21 top (similar)
Zara jeans (here)

Amelia's outfit
Brandy Melville top (similar)