Besties for the resties!
More mimosas please!
#GirlTalk
SO cute #GivesMeAllTheButterflies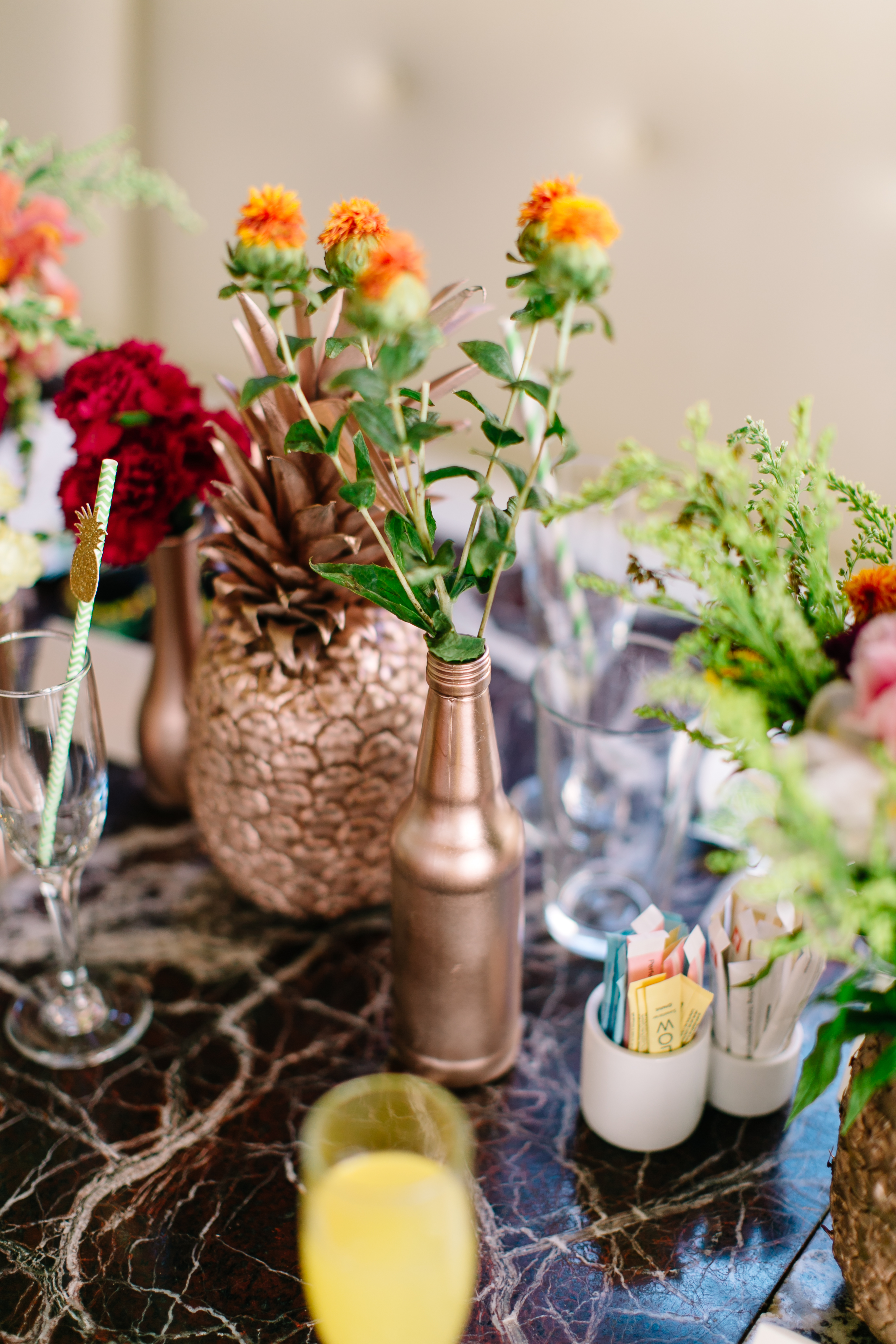 My favorite couple- LOL
Event design and styling by Brooke du jour and AGH Events
Venue: Bistro31 | Invitations: Tiny Prints | Floral design: Brooke du jour and AGH Events | Pineapple cookie party favors: Celebrity Bakery | Place cards and thank you tags: Madeleine Calligraphy | Pineapple sunglasses: Paper Source | Pineapple straws: Paper Me Blossom
My outfit: JM Drygoods x Madewell dress, Neiman Marcus earrings, Gold & Gray tassel bracelets
I love entertaining, and I love showering my friends with love, so when one of my best friends from college moved back to Dallas, I knew I had to throw her a fabulous welcome home brunch!
I met Mary Liz, the guest of honor (!), 6 years ago during freshman orientation at SMU. Our moms actually met first in the elevator, were instantly obsessed with each other and practically forced us to be roommates. Thankfully, we became besties and lived together for most of college. After we graduated, Mary Liz moved to NYC and we all missed her like crazy. A little over two years later, Mary Liz finally moved back to Dallas and here we are!
When I first started to brainstorm party ideas, I looked all over Pinterest for inspiration. Since Mary Liz is such a Texas girl, I knew I wanted the event to have a Southern feel to it. As soon as I realized pineapples are the symbol of Southern hospitality, it was a pretty much a done deal because who doesn't love pineapples?!
Whenever I'm organizing a party, I always create a style guide first to keep myself grounded and to ensure the final design will all flow together- such a good tip for any fellow party planners reading this! I didn't order a single thing (invitations, party favors, whatever) until every detail was decided. You never want to be stuck in a situation where you've paid for the invitations and then want to switch to a totally different theme!
One of my best friends Alex is a wonderful party planner and has been my partner in crime on many events. Thankfully, I had her support again for Mary Liz's brunch. It is so helpful to have a friend (with good taste!) to bounce ideas off of and create beautiful things with! Let me tell you- Alex knows her way around a flower arrangement!
This event was clearly a team effort, because my adorable boyfriend, Michael, willingly spent his Friday night scooping out the inside of pineapples and spray painting them (with rose gold spray paint- duh!). Definitely a keeper.
I was so nervous when Mary Liz first walked into Bistro 31 because I wanted everything to be perfect. I'm not sure if every detail was perfect, but I know Mary Liz felt really loved, which was obviously the whole point of the day : )
Alex and I truly love organizing parties, and we would be honored/giddy/over the moon to help you plan yours! Please feel free to email us at brookedujour@gmail.com if you want to chat : )