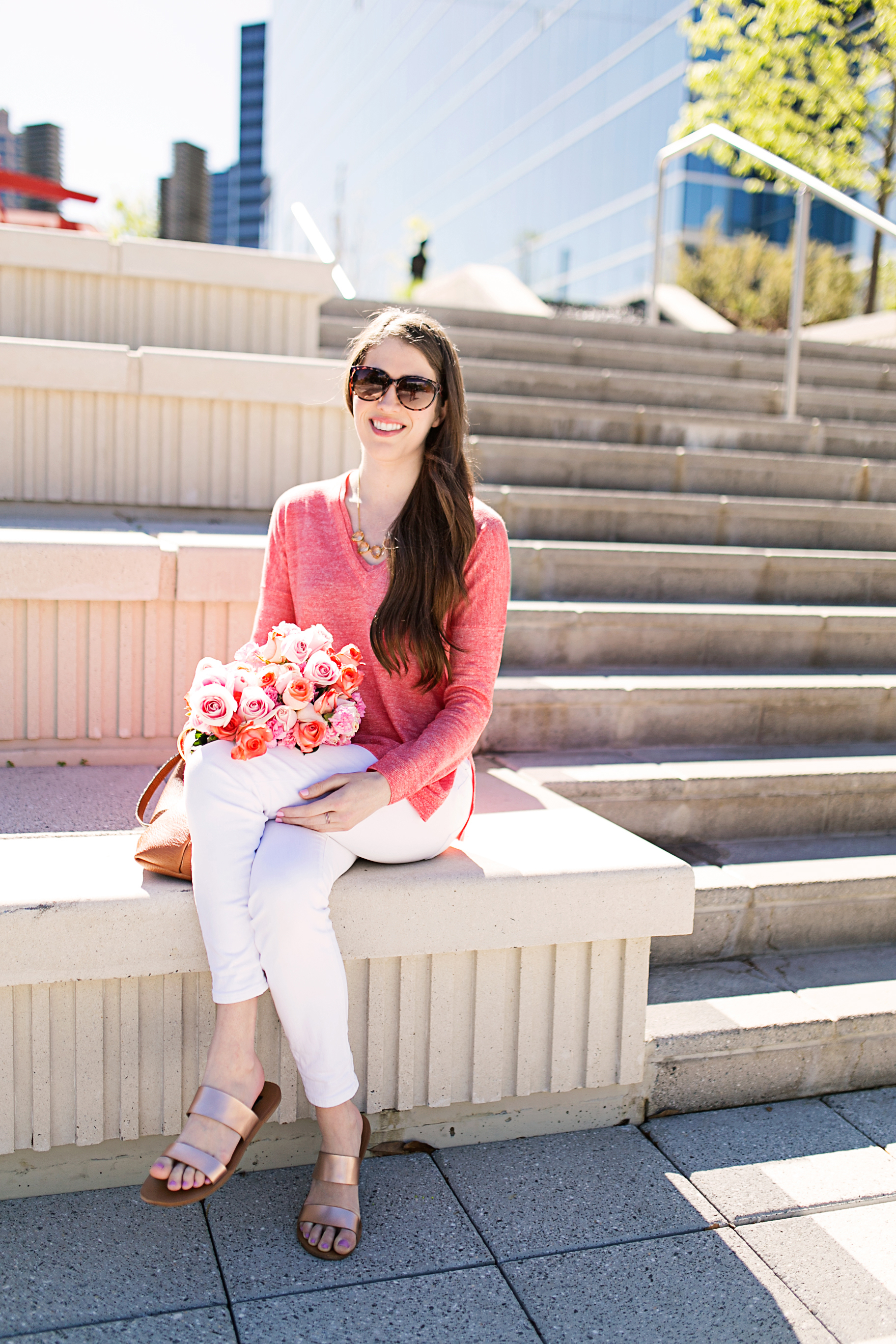 Outfit: J.Crew sweater, J.Crew jeans
Accessories: Forever21 sandals (similar), Street Level tote, LOFT sunglasses (similar)
Jewelry: J.Crew necklace, J.Crew bracelet
Makeup: Chanel lip gloss in 119 Wild Rose
So I just realized I'm basically wearing 100% J.Crew in this outfit, which I'm 100% okay with. Fellow J.Crew lovers, where you at? I have very exciting news for you! Spring must haves and sale styles at J.Crew are currently 40% with code 24HOURS. What is this?! Christmas in April? Instead of questioning this, let's just shop to our heart's content.
This coral sweater is currently on sale for $48. It's lightweight for spring, the perfect seasonal color and who can resist the cute side slits? This sweater was an instant closet favorite. When I first bought it, I actually wore it so much that my mom was even grossed out. If we're being honest, I wore it three times in one weekend. Whatever– there is no judgment in the Brooke du jour community (especially when it comes to cute sweaters!) Since this sweater is such a steal, I think this means I also need to get it in the light blue shade as well. Trust me- it's super soft and works for lots of occasions.
These jeans are currently not on sale, but I would still recommend checking them out. Cute white jeans are no easy feat to find and $115 is pretty reasonable. Nothing says springtime quite like a new pair of white jeans!
I am obviously really amped about this outfit, but I'm also thrilled that we are inching closer to the weekend. I have been so tired and rundown, and I really need to just Netflix and chill this weekend. What are y'all looking forward to this weekend?