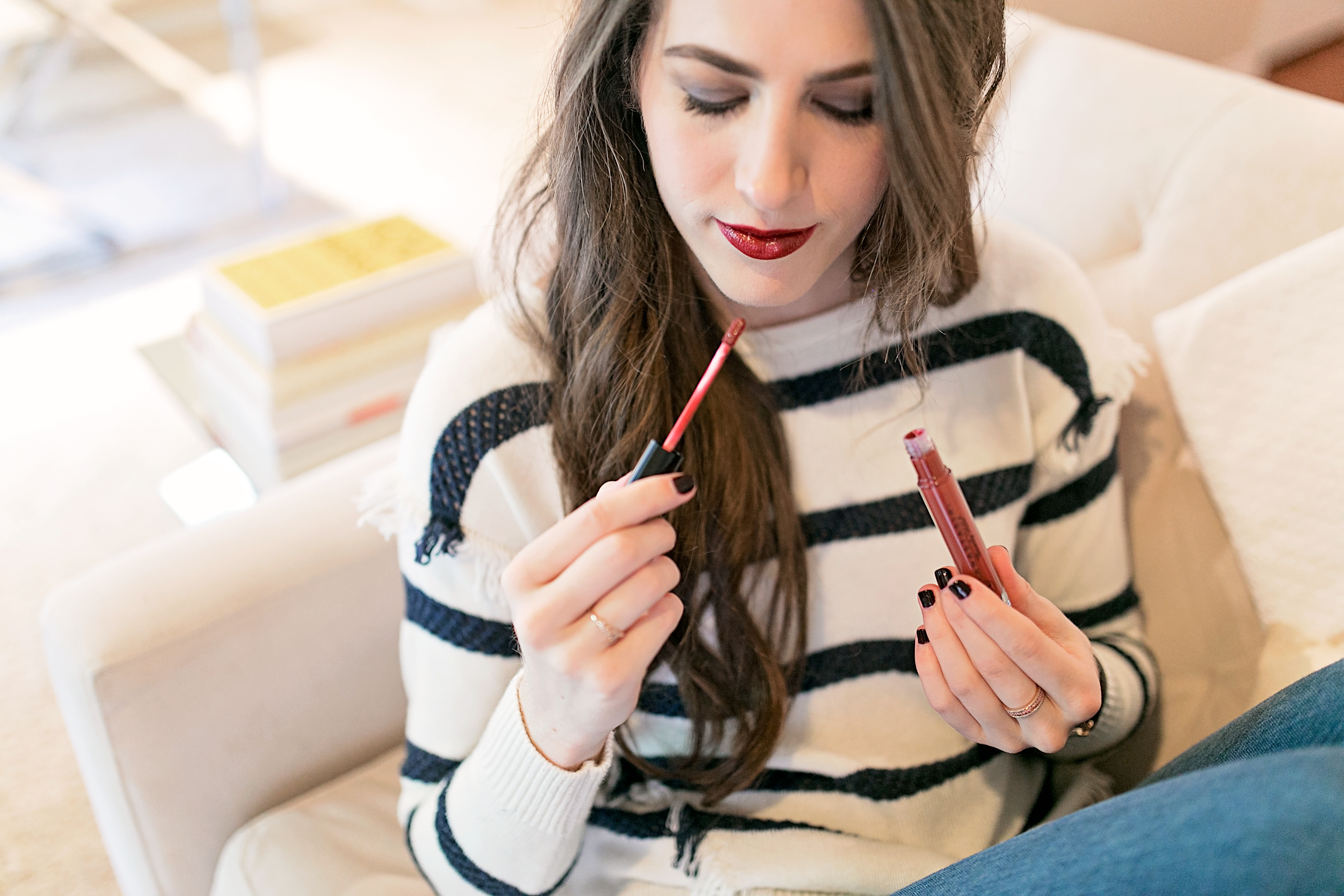 Beauty products: MAC Stolen Moment extra dimension eye shadow | MAC Dame powder blush | MAC Pearl cream color base | MAC Diva lipstick | MAC 168 contour brush | MAC 217 blending brush | MAC Ms. Diva lip pencil | Anastasia Beverly Hills Bordeaux lip gloss | NARS Charlotte Audacious lipstick
Other products: Candlefish candle | Skeem matches | The Flower Workshop book | Chanel book | Banana Republic sweater (similar) | Articles of Society jeans
My beauty routine stays pretty consistent throughout the year, but lately I've been playing around with new fall colors to transition my makeup bag from summer to fall. On the runway, I've been seeing a lot of strong, strict lips with smudgy, "just woke up" eye shadow so I wanted to replicate that trend but make it a bit more relatable.
For lips, I've been experimenting with MAC Diva lipstick, Anastasia Beverly Hills Bordeaux lip gloss and NARS Charlotte lipstick. My favorite is MAC Diva! It's in the red family that I love but darker. Ombre lips are in for fall so I recommend using a lip liner like MAC Ms. Diva lip pencil. I know lip liner can be tricky and definitely takes practice! I typically line the middle of my bottom lip and make two points on my Cupid's bow on the top of my lip to balance out the lip and make it look even. Then I connect the lines and fill in my lips with the liner.
I balance my lips with color on my cheeks. I normally wear a peachy blush like NARS Orgasm, but MAC Diva is too cool for that. To achieve the fall look I'm going for, I use MAC Baby Don't Go blush and MAC Dame blush. They both add structure, define my cheek bones and add flush.
I take my fluffy MAC 217 brush to apply MAC Stolen Moment eye shadow. I sweep in tiny little circles starting at my lash line and follow my eyeball. I like Stolen Moment because it gives me the darker effect I'm looking for without being so dark that I look like I lost a bar fight, lol! If you're doing your eye shadow after you've done your face, grab some tissues because this pigmented shadow tends to fall out. I also make my eyeliner a little smudgy instead of a clean line to get that messier look I'm going for.
What beauty trends are y'all excited to try this fall? Also, please let me know if you have any requests for future beauty posts on the blog! Next up, I'm planning a post on my obsession with Drybar dry shampoo and dry conditioner : )