Who is Cyber Monday shopping today?? Honestly, I went a little crazy (read: completely bananas) on Black Friday, so I think I am taking a pass on Cyber Monday sales this year. However, if you are a more responsible shopper than I am and appropriately paced yourself with all the sales this weekend, have at it! The Kooples dress I'm wearing in the photos below is 62% off for Cyber Monday! It also comes in blue, which I might like even more than the red, so maybe I should get the blue one too? Wasn't I supposed to abstain from shopping today? Ugh.
If you want to up your hoop game this holiday season, the Gorjana hoops I'm wearing below are also on sale for Cyber Monday– 20% off! I wear these guys seriously all the time. They're totally different than your typical hoop, very lightweight and instantly sass up an outfit. You'll love 'em.
A few more sales to note- J.Crew is offering 50% + free shipping with code SHOPFAST. You have to snap up this pink velvet top asap. I also feel like this wine T-shirt and this chocoholic T-shirt are the ultimate duo for your bestie's Christmas present. If only J.Crew made a cheese T-shirt and then we would really hit the trifecta. I moved back to LA almost a year ago (!!!) and I still haven't put any art on my walls- Luckily for me and you, Gray Malin is offering 30% off sitewide and Lucy Cuneo is offering 25% off all prints + free shipping. Every print is gorgeous, but I really love Gray's Girl in Pink, Bora Bora and Lucy's Charlotte.
Anthropologie | 20% off full-priced items + free shipping with orders over $100
Club Monaco | 25% off $150+, 30% off $250+, 35% off $400+ and extra 30% off sale | Code: SHOPMONDAY
Nordstrom | Extra 20% off selected sale items
Revolve | Extra 20% off final sale + up to 75% off new markdowns | Code: CYBER20
Shopbop | Additional 35% off sale items | Code: WOW35
I hope you're shopping the sales while snuggled up with a cup of hot cocoa– spiked or not spiked, I'm not here to judge.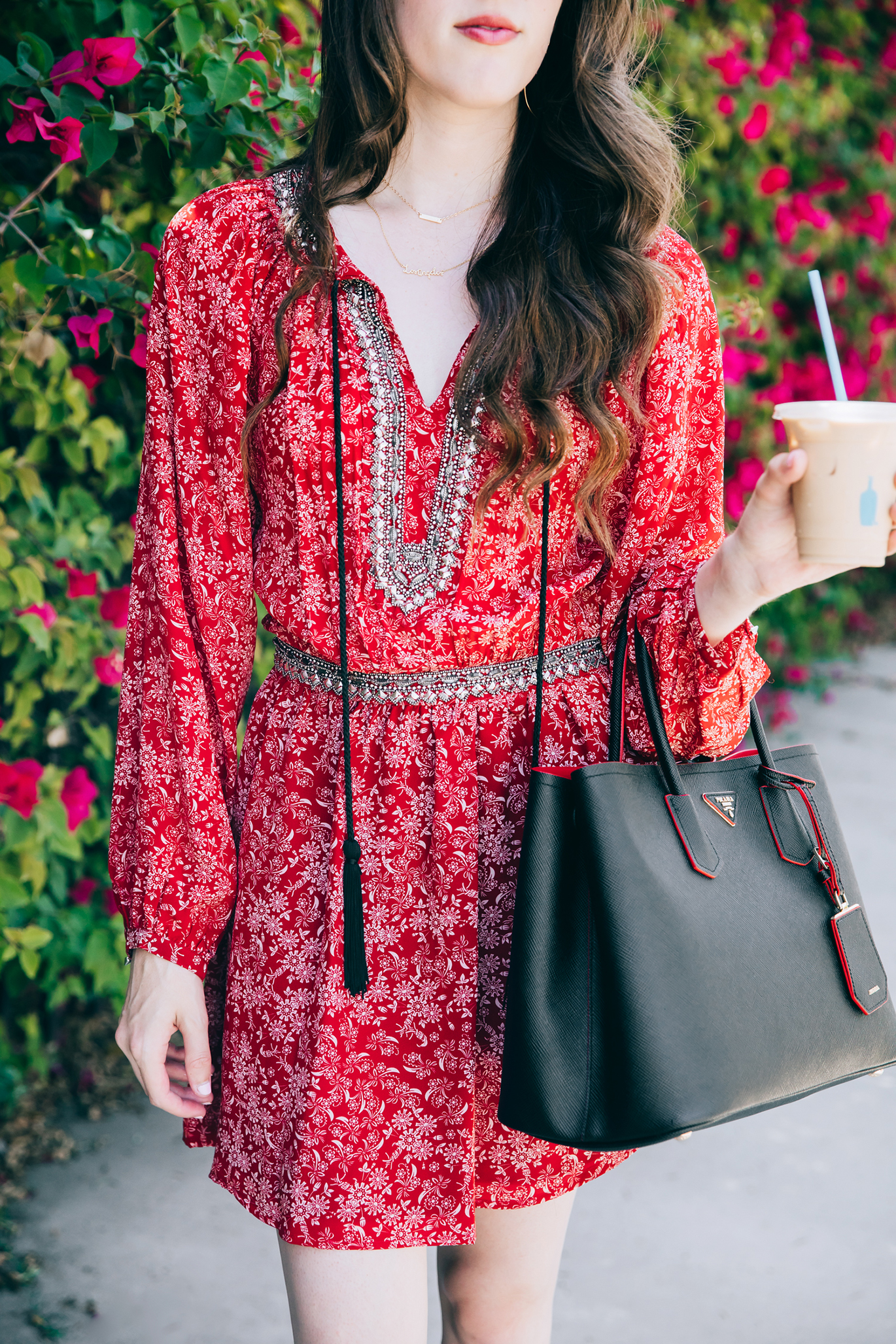 Outfit: The Kooples dress (62% off for Cyber Monday, more sizes here)
Accessories: Ray-Ban sunglasses (20% off for CM), Prada purse, Steve Madden heels
Jewelry: Gorjana earrings (20% off for CM), Katie Dean Jewelry bar necklace (similar), BP Los Angeles necklace (similar)