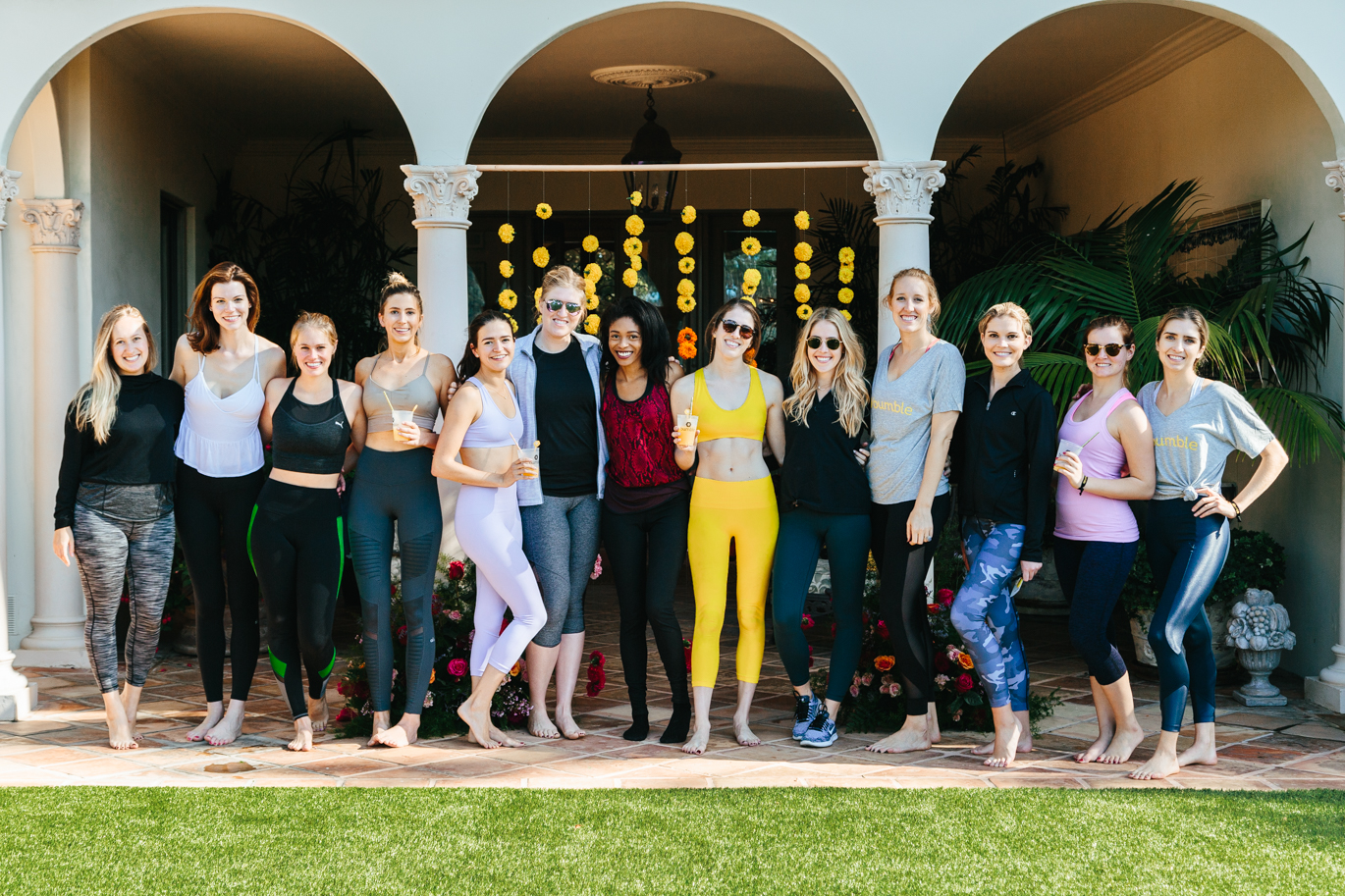 I joined the Bumble hive as the LA Queen Bee this fall and have been loving it!! As the Queen Bee, I plan several regional events a month for Bumble, Bumble BFF and Bumble Bizz. One of my favorite events has to be this Bumble BFF yoga class I recently hosted at my house in Pacific Palisades.
If you aren't familiar, Bumble is the female-forward social networking app that helps its users connect with relationships, friends and business contacts. Bumble BFF is the friend-finding app from Bumble. On BFF, it doesn't matter if you're single, taken, or anything in between, everyone is invited to enter Bumble's friend zone. Bumble recognizes that relationships are one of the most important aspects of life, and that no matter what your situation is — Maybe you've moved to a new city, your best friend has moved away or you're looking for people with mutual interests — there's always a time when you need a friend.
At this yoga class, I invited my best honeys and encouraged everyone to bring their BFFs. We ended up with such a great lady gang excited to expand their hive and break a serious sweat!
Our yoga instructor Matty Whitmore led the power yoga class. It was very rigorous for 11 am on a Sunday morning! Several girls (myself included) regretted that extra drink(s) from the night before let me tell you! I definitely had to take child's pose more than once or twice during and then desperately re-fueled on KIND bars after, lol!
Darlington Avenue created the vibrant hanging floral garland and arrangements wrapped around the columns. The floral backdrop instantly got everyone in a blissed-out mood and served as the perfect photo opp—win win! I always love working with the Darlington Avenue team—they're crazy talented.
We obviously had plenty of Bumble swag for décor and party favors as well. The "Never Thirsty, Always Hydrated" water bottles are pretty much my favorite thing ever. You can shop some of the collection in the Bumble Bee.tique. How cute is that name? I can't even.
If you're LA-based, please let me know if you want to be on the invite list for Bumble events! Remember, good people are all around you! xx
Event design and styling
Flowers
Bumble swag and décor
My outfit
Touche LA sports bra and leggings (I'm wearing an XS/S in both)

More cute workout outfits