A few months ago, I was getting ready for the day and doing my makeup as per usual and something truly horrible happened. I spotted my first grey hair. On my right eyebrow. I immediately thought, "What the actual f*ck?!" I convinced myself that the hair was actually blonde, not grey – I'm very much a natural brunette but it makes total sense that I would have a blonde eyebrow hair, RIGHT? – and went on with my life.
About a week later, I was getting my eyebrows waxed and the waxer goes, "Oh let me get that for you" and she plucks out my new arch nemesis—that grey hair. I must have looked completed horrified, because then she said something really awful—"Oh honey, this is nothing. Just wait until you get your first grey hair down there…"
OMG.
I ran out of the salon and straight into a quarter life crisis. I realized there is nothing I can do about a few stray greys (except for strategic plucking and a dye job down the line), but there is one aspect of anti-aging that I can have some affect on—taking care of my skin.
I put on my pink glasses and did a lot of research (I went deep down the YouTube black hole, read my favorite blogs, sent a million annoying texts to my makeup artist friends, harassed the salespeople at Sephora, etc). I know myself and I know I am lazy AF- I want to start taking better care of my skin, but I also want a simple regimen and don't want to spend a million dollars on a sh*t ton of products I will never use. I also recognize that I'm only 25 and just want to start with the basics—a great cleanser/makeup remover, moisturizer with sunscreen, night cream, eye cream, serum and face oil.
Scroll down past the pictures to read the regimen I came up with. I'm not an expert, and I know everyone has completely different skin—I personally have pretty normal, clear skin. I've thankfully never had to deal with acne. I'm sensitive and probably on the dry side.
Meet Vera! She is a Gerbarian Shepsky and the latest addition to Felicia Lasala's family. I am totally obsessed with her. I mean THAT FACE.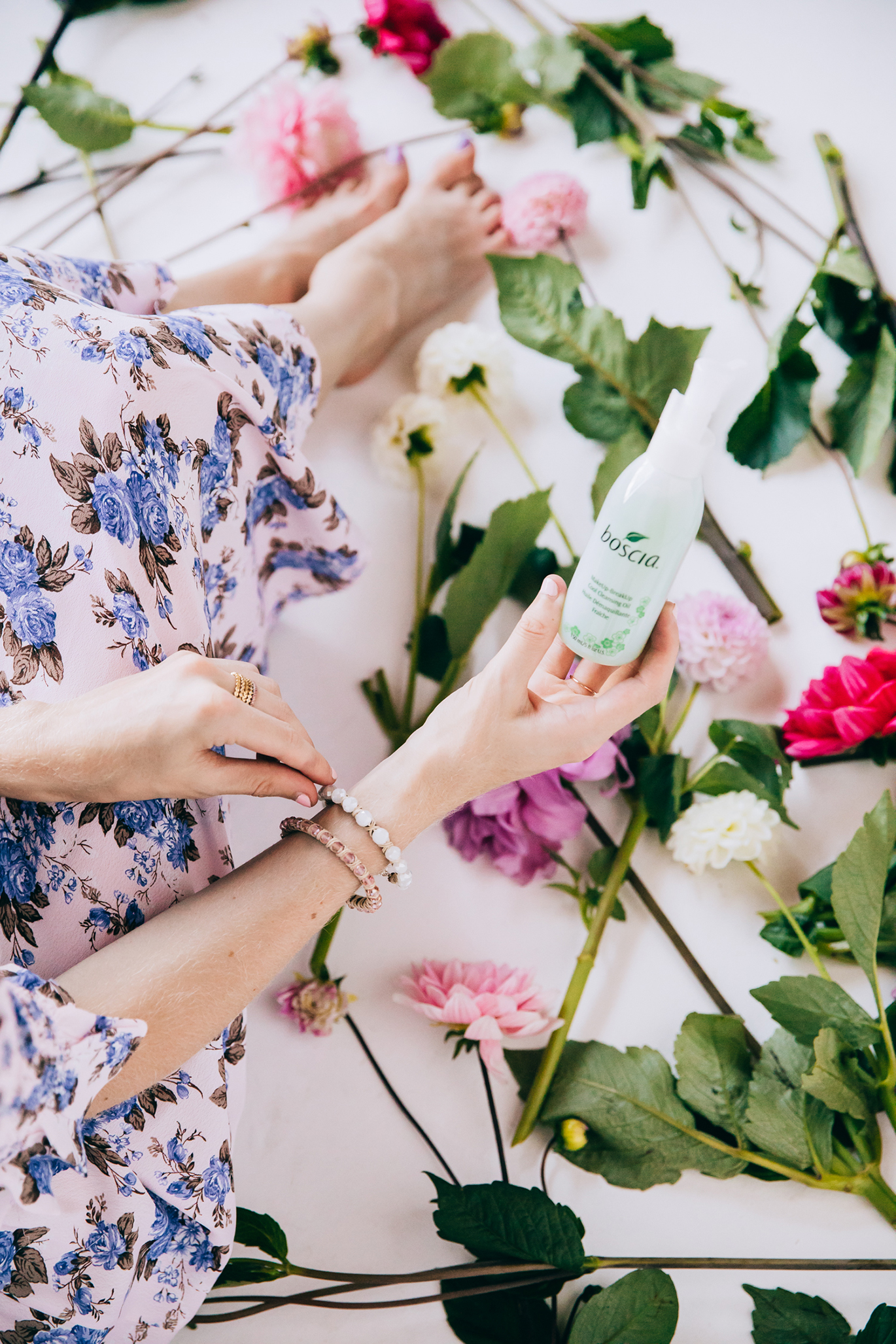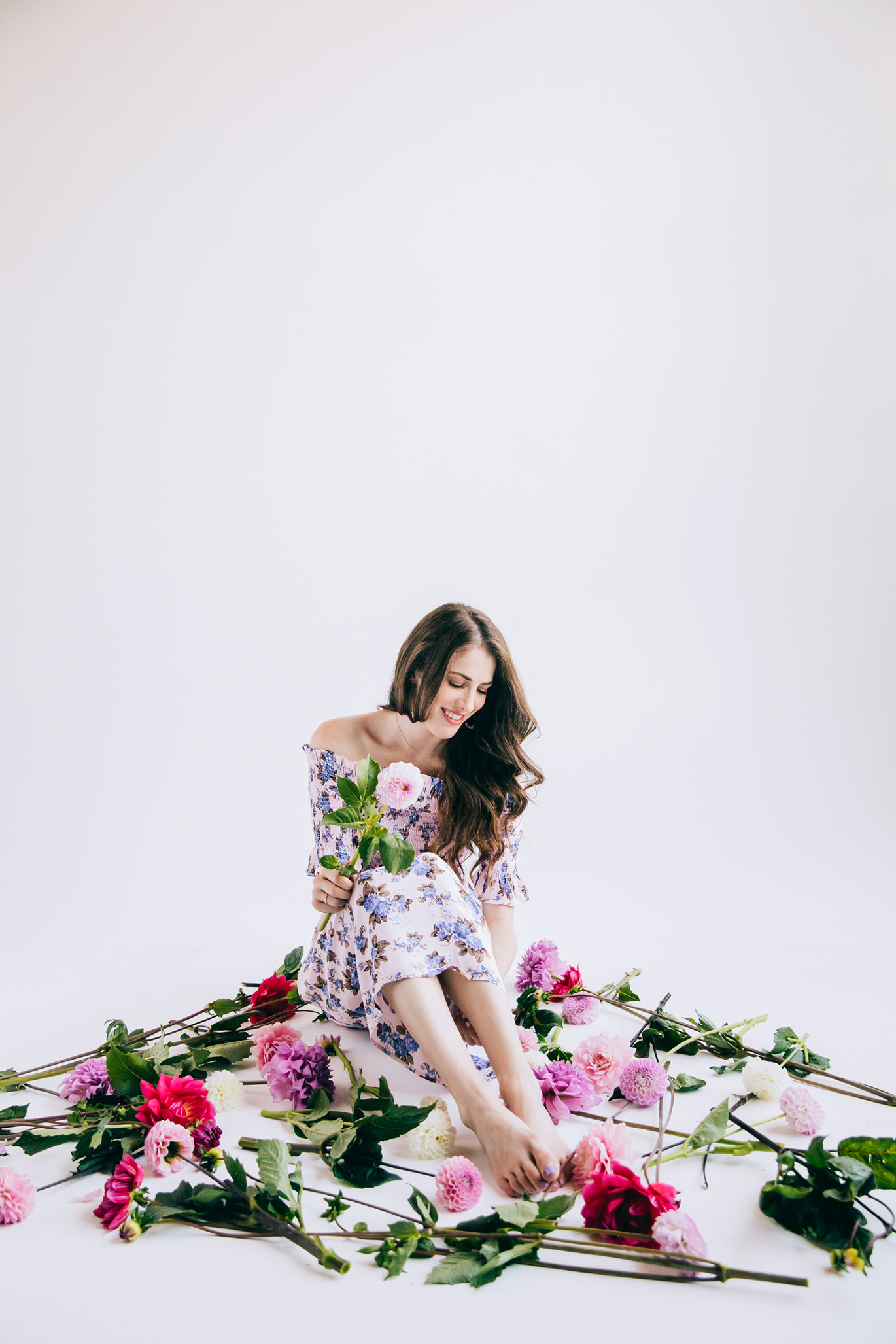 In the mornings, I wash my face with Fresh Soy Face Cleanser to tone, sooth and soften my skin. Next, I dab Caudalie Vine[Activ] Energizing and Smoothing Eye Cream. It plumps the skin under my eyes, energizes my skin and makes me look more awake. Next, sometimes I put on Sunday Riley Good Genes All-In-One Lactic Acid Treatment to reduce the appearance of aging, fine lines, wrinkles, etc. The lactic acid is harsh on your skin, so I only use it about twice a week. I always slather on Josie Maran Argan Daily Moisturizer SPF 47. I am a complete freak about sunscreen—I wear it all.the.time. I'm seriously the mom in my friend group when we're all at the beach. I have at least 3 tubes of sunscreen in my bag at all times and always remind everyone to re-apply lol! Speaking of moisturizers, I think I am also going to try Peter Thomas Roth Water Drench Hyaluronic Cloud Cream, because it's packed with hyaluronic acid and supposed to be super moisturizing. After my moisturizer, I add on primers, foundation, the rest of my makeup, etc. With breakfast, I also take Dr. Kanodia's Amla dietary supplement. It's a fruit extract packed with antioxidants to reduce oxidative stress and cellular damage, hydrate and nurture the skin.
At night, I remove my makeup with Boscia MakeUp-BreakUp Cool Cleansing Oil. It's really gentle and effective and I don't have to pull or tug around my eyes to get my mascara off. I also use the Fresh Soy Face Cleanser again to really make sure all of my makeup is off. If you notice using a cleanser two/three times a day is too drying for your skin, I would suggest only using a cleanser once a day and following it up with a fab, heavy moisturizer. I apply my Caudalie Energizing and Smoothing Eye Cream again. Next up, I add Caudalie Vinoperfect Overnight Renewal Cream to exfoliate, prevent/smooth any lines and reduce pores. Lastly, I use Sunday Riley Luna Sleeping Night Oil. This product has retinol in it, which is very potent, so I don't use it more than two times a week. This oil reduces pores and wrinkles and fights premature aging. It goes on blue so you might feel like a smurf at first but just really rub it in and you're good to go!
As you can tell, I really like both Caudalie and Sunday Riley. I like to stay in the same skincare family as much as possible, so there aren't too many different kinds of products on my face. Brands formulate so their products work well together, you know? Sunday Riley actually has a kit with both my serum and night oil sold together, which makes it a better deal.
At the end of the day, you can put a ton of products on your face but they won't be effective if you don't take a holistic approach to your overall health. I try to exercise regularly and not eat like a truck driver (unless there are Cheeto Puffs involved—then all bets are off). I get lots of sleep and drink a ton of water as well. I also fully believe that how you feel on the inside reflects on the outside. Self-love and care is so important to me. I really should do a whole blog post on self-love practices, but one of my favorite things to do is write affirmations on Post It notes and leave them throughout my house. I just added this one to my bathroom mirror so I start my morning with positivity– "May the light of your spirit shine so bright that nothing can dim your glow. Shine on."
That's currently where I'm at with my skincare/anti-aging routine. I'm always learning, so please let me know if there are any products you love! I also haven't found a great facialist in LA yet, so shoot me an email if you know someone fab! PS- Who has tried Botox/fillers? I haven't because getting Botox at 25 is just too LA for me, but I know it's something I will look into in my late 20s with a responsible dermatologist who won't make me look like a Real Housewife. What do y'all think?!
Xx, Brooke

Anti-aging products: Sunday Riley Good Genes All-In-One Lactic Acid Treatment, Caudalie Vine[Activ] Energizing and Smoothing Eye Cream, Josie Maran Argan Daily Moisturizer SPF 47, Boscia MakeUp-BreakUp Cool Cleansing Oil, Fresh Soy Face Cleanser, Caudalie Vinoperfect Overnight Renewal Cream, Sunday Riley Luna Sleeping Night Oil
My outfit: Topshop dress (currently 50% off!)