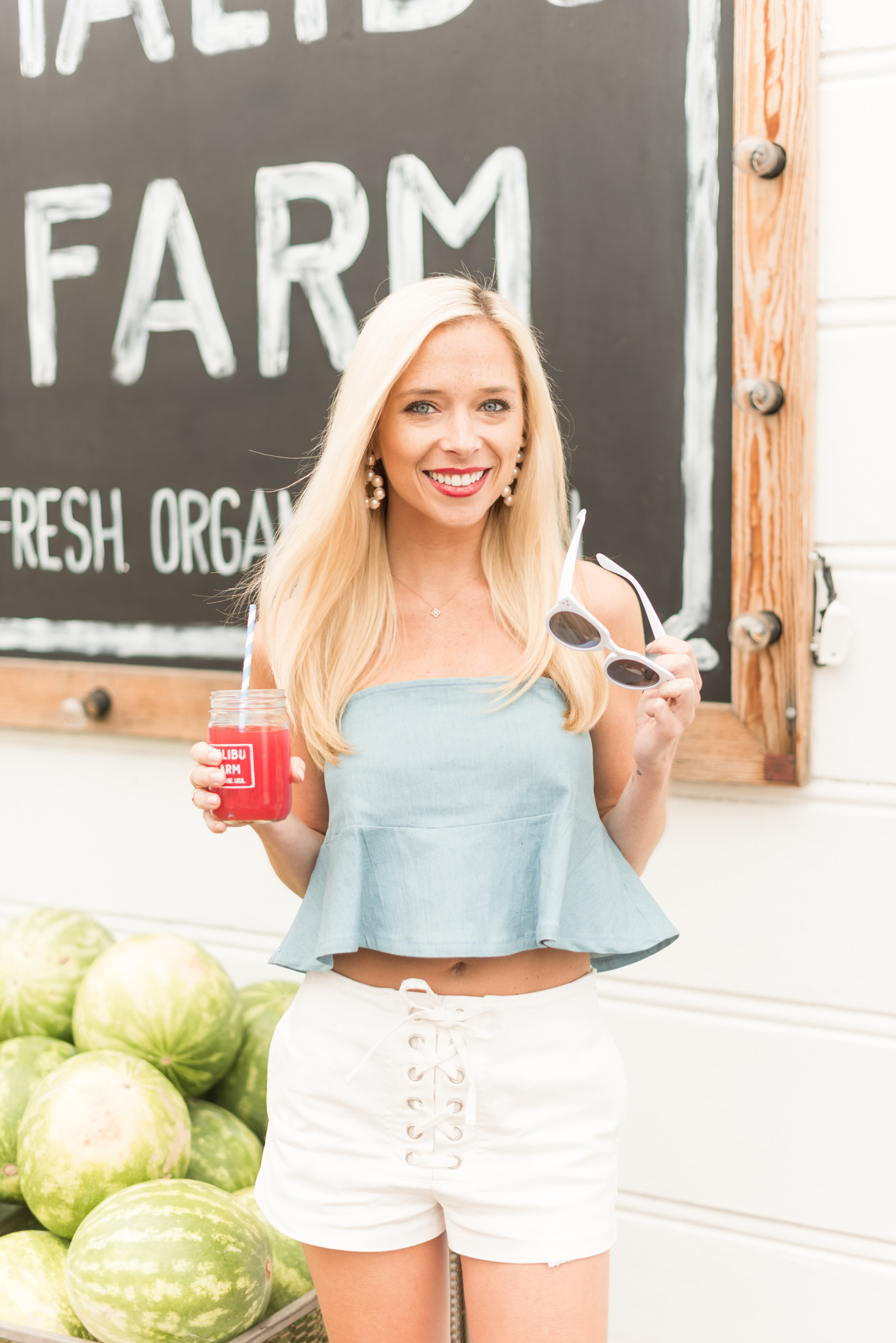 Hi everyone!
My friend Katherine is joining me on Brooke du jour today! Isn't she adorable? We are both fairly new to LA and met at a fashion panel in February. We became fast friends once we realized we were both journalism majors at SMU, have blogs and appreciate a good happy hour! We even saw Ryan Gosling at our last drinks date—Obviously the best moment of my entire life. He is even better looking in person if that is even possible!
Katherine and I recently had a fun breakfast at Malibu Farm. We were both clearly feeling the Memorial Day/4th of July vibes in our red, white and blue outfits! I have been on a major gingham kick for summer. I got my romper at Principessa in Venice. Unfortunately I can't find it online but this cherry-covered romper is very similar and might be even cuter?! Also recommend this $60 find for more fun in the sun. Katherine nailed the summer blues with her outfit! I'm dying to borrow her denim crop top for a summer BBQ. I'll just need to do some ab exercises first, lol! And don't even get me started on Katherine's red and white gingham shoes. Need.Want.Love!
Have you been to Malibu Farm before? It's a very Instagrammable spot on the Malibu Pier with gorgeous beach views. Get your 'gram and your beach bag ready. Malibu Farm is one of my favorite restaurants by the water, and it's perfect if you're entertaining out-of-town guests. Don't you just love their décor and signage? For breakfast/brunch, order the Swedish pancakes or an acai bowl. Pair your breakfast with a yummy watermelon drink in a cute Malibu Farm mason jar. Or if you're feeling boozy, you have to try the F'Rosé! I mean, does it get any better than frozen rosé?! Totally music to my ears. I also feel like the kale mimosa is very LA/healthy-ish right? Lol! For lunch or dinner, you can't go wrong with the Stoplight Tacos Trio. Take your first bite and then thank me! Finish off your meal with a caramel ice cream sandwich. Yes you read that correctly—caramel ice cream sandwich. Order yourself one and then tell your friend to order her own dessert, lol!
Some of my other favorite Malibu restaurants are the Malibu Beach Inn, Mastro's, Nobu and anywhere in the Malibu Country Mart. Where will you be headed with the temps on the rise this summer? Xx

My outfit: BP aviators, YSL glossy stain in 11 Rouge Gouache, Honey Punch romper (similar), J.McLaughlin bag (similar), Converse sneakers
Katherine's outfit: Anthropologie sunnies, BaubleBar earrings, Clayton top, Capulet shorts, Superga sneakers